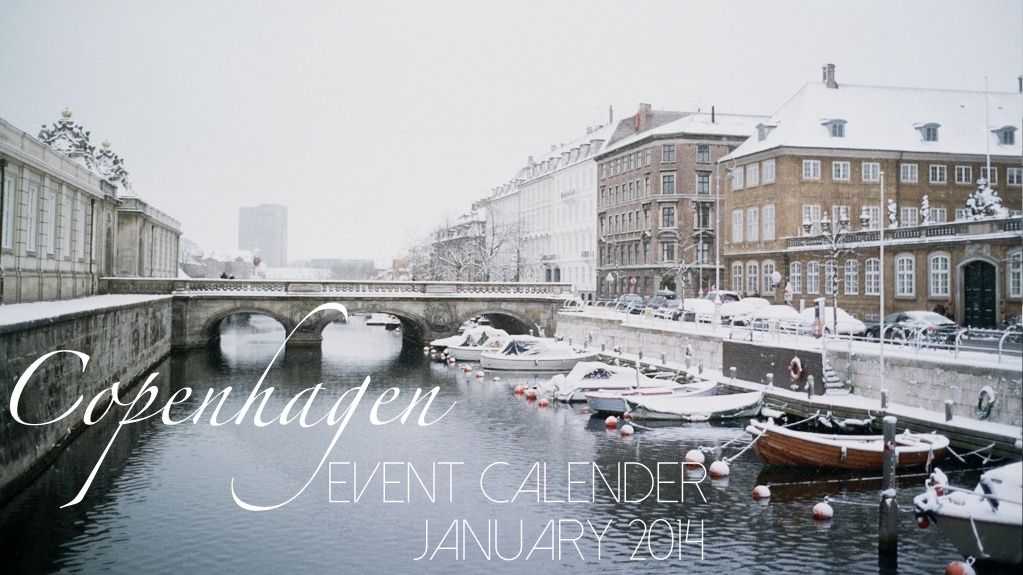 Januar er kold, kold, kold, men der er heldigvis masser af lækre events at se frem til i årets første måned. Nedenfor kan I se hvilke vi ville kigge forbi. ♡
January in Copenhagen is dark, cold and rainy. But the events aren't. Here are some of our recommendations for what to do in Copenhagen in the first month of the year. ♡
Fashion & shopping
Loppemarked // Remisen: 11.-12., 25.-26. januar: Der fine muligheder for, at lave et godt køb, når indendørs loppemarkedet ved Remisen åbner dørerne op til 90 stande fyldt med masser af nips, møbler, lp'er, sko, accessories, tøj, tasker og masser af andre ting fra gemmerne! Åbningstider alle dage fra kl. 10.00-16.00. Pris: 10-30 kr,- Remisen, Blegdamsvej 132, 2100 Østerbro. English: One of the best fleamarkets in Copenhagen is located in the heart of Østerbro. Opening hours: Saturday and Sunday from 10 am to 4 pm. Tickets: 10-30 dkk,- Remisen, Blegdamsvej 132, 2100 Copenhagen Ø.
Copenhagen Fashion Week: 29. januar – 02. februar: Københavns modeuge indtager byen i den sidste uge af januar og byder på utallige events, shows og fester. Som altid laver vi et seperat indlæg om CFW, mere info om dette følger. English: Copenhagen Fashion Week offers an inspiring mix of internationally renowned trade fairs with a wide selection of the best fashion brands and garments, primarily from Scandinavia, but also from leading fashion houses around the world. Get ready for a lot of amazing fashion shows, events and parties in the last week of January. More event information will follow, so stay tuned.
Beauty
TRESemmé Blow-Out Bar // Kongens Nytorv: 30. januar – 1. februar: Under Københavns modeuge kan du få ordnet lokkerne af de dygtige stylister hos TRESemmé. Du finde deres Blow-Out Bar på Kongens Nytorv, hvor du og dine veninder kan blive klar til dagens shows og aftenens fester helt gratis. Åbningstider: 12.00-18.00. Kongens Nytorv, 1050 København K. English: TRESemmé will make sure you look fabulous throughout the fashion week days when they invite you to get pampered at their incredible Blow-Out Bar where you can get your hair styled for free. TRESemmé has parked a large styling bus on Nytorv, where professional hair stylists are ready to work their magic on your do, so you can look fabulous for the coming shows and parties. Opening Hours: 12 pm to 6 pm. Kongens Nytorv, 1050 Copenhagen. 
Music & entertainment

DR Nytårskoncerter // Falconer Salen: 09.-12. januar: DR Nytårskoncerter inviterer indenfor til en koncert fyldt med musikalsk magi fra de mindst ligeså magiske film Løvernes Konge, Skønheden & Udyret, Junglebogen og Lady og Vagabonden. Hør musikken og sangene blive fremført af en række af Danmarks bedste sangere som Maria Lucia, Stig Rossen, Annette Heick, Monique Spartalis og Henrik Launbjerg. Billetter: 380 kr,- via Billetlugen.dk. Falconer Salen, Falkoner Allé 7, 2000 Frederiksberg. English: Don't miss out on the Disney magic when DR Nytårskoncerter will perfom at Falconer Salen this month. Tickets: 380 dkk,- through Billetlugen.dk. Falconer Salen, Falkoner Allé 7, 2000 Frederiksberg.
Evita // Det Ny Teater: 24. januar – 04. maj: Gennem Tim Rice og Andrew Lloyd Webbers partitur fortæller musicalen den lidenskabelige og tragiske historie om ikoniske Eva Perón. Charlotte Guldberg ses i hovedrollen som Eva Perón, med Jesper Lohmann modsat hende som Oberst Juan Perón. Det Ny Teater, Gammel Kongevej 29, 1610 København V. Billetter: fra 176 kr,- via Billetnet.dk. English: In January of 2014, the spectacular musical Evita premieres at the New Theater in Copenhagen. This edition is specifically designed for the Danish theater. Through Tim Rice and Andre Lloyd Webber's composition, the passionate and tragic story of icon Eva Perón is told. Charlotte Guldberg and Jesper Lohmann star as Eva and Juan Perón. Tickets: from 176 dkk,- through Billetnet.dk. Det Ny Teater, Gammel Kongevej 29, 1610 København V.
Sport & culture
Det urbane skatteløb // København: 25. januar: Running Copenhagen inviterer til urban skattejagt d. 25. januar kl. 12.00 hvor du enten alene eller sammen med venner, familie eller kolleger skal løbe København tynd efter lodder til de mange præmier. Efter skattejagten vil der være tændt op i saunaen, som ligger på en flydende ponton i kanalen overfor Nationalbanken med udsigt til Børsen og Christiansborg. Billetter: 75 kr,- for løb. 50 kr,- for sauna. Husk badetøj for at få adgang til sauna. English: Join Running Copenhagen's Urban Treasure Hunt and experience Copenhagen while you compete with others in a friendly game of treasure hunting. The only thing it takes to participate in The Urban Treasure Hunt is your running shoes and a smartphone or a camera. When the treasure hunt has found its winners Running Copenhagen will heat up the sauna on the floating pontoon, that is located in the canals with a view to the National Bank and the Parliament. So bring your bathing suite and end an amazing treasure hunt with a relaxing and untraditional visit in the sauna. Tickets: 75 dkk,- online. Start: 12 pm.